Crayonland 4 in 1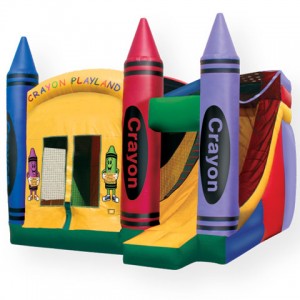 Crayonland 4 in 1
Everybody knows what a crayon is, and we all know that they spell fun! This one is styled with the classic crayon look and is an excellent playland for all! This unit features a bounce surface, a slide, climbing place, and basketball hoop all in 1 compact piece!
Specs:
Space Required (LxWxH): 15x15x15
Power Required: One – 20 amp circuit.

Not sure which Bounce House to choose?  Our themed bouncers are 15'x15'x15' and offer a large jumping area.  Our 4 in1 combo units take up about the same space as your regular bounce unit and include a slide, bouncer, climbing surface, as well as a basketball hoop. The next step up is our 5 in 1 which feature the added activity of an obstacle course and a little more size.    Still not sure?  Contact us and we can help you find the bouncer that's perfect for your event!