Dunk Tank
Dunk Tank rentals add an element of fun to any Phoenix or Scottsdale picnic, party, or special event.  We offer trailer dunk tanks like the one pictured below, and we offer collapsible dunk tanks.  In addition have some great and hilarious Dunk Tank alternatives available for rental- like the Silly Shower, Balloon Splash, and Pitchburst!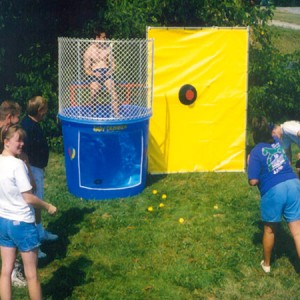 Rent a dunk tank, and rent some fun!
We also have the following Dunk tank options:
Collapsible Dunk Tanks
Pitchburst Rentals
Dunk Tank Rentals are a great way to add fun to any event. We rent dunk tanks throughout the Phoenix and Scottsdale metro areas to all kinds of special events. If you are planning a school carnival, church carnival , company picnic, birthday party, or other special event throughout the area- and you need a dunk tank rental- check your date and book online with our online reservation system today.

Dunk tank rentals add a lot of fun to any Phoenix or Scottsdale event. Rent one today!
Party rental options, we rent more than just dunk tanks!
We also rent a huge selection of other party rental options besides the dunk tank. We have everything from carnival games, to tents, tables, chairs, bounce houses, inflatable slides, and a whole host of other fun options which will add to your special event.
When it comes to planning an event- AZ Party Rents is your one stop party rental shop for the Phoenix and Scottsdale surrounding areas. We have tons of great games and activities available for rental.
Dunk tanks for rent in Scottsdale, Phoenix, and Surrounding area
Renting a dunk tank can be a great way to build a fun event. The dunk tank is a classic carnival attraction which features a person who sits on a seat perched above hundreds of gallons of water. Participants throw a ball at a target, when the target is hit it triggers a release on the seat sending the person into the water. This is a great laugh for a crowd and has proven to be fun for all ages of participants.
We have offered our dunk tanks for rent at Scottsdale area company picnics, school and church carnivals, birthday parties, store promotions, grand openings, and all kinds of community festivals and other events. If you are planning a special event, let us know how we can help. We would love to assist you with any rental needs which you may have.