Football Challenge
Field Goal Challenge – Football Kick Inflatable Rental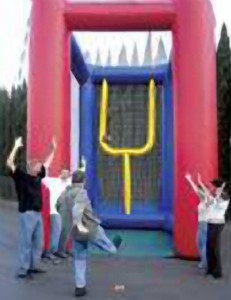 When you are looking for a fun football related inflatable game in the Phoenix metro area- rest your eyes on this Field Goal Kick challenge.  This massive game towers over everyone's heads and creates an amazing awe inspiring visual attraction at any special event.  The Game itself is very simple…  Participants attempt to kick a Field Goal!
If you are planning a Football themed special event in the Phoenix area- this game is a must have. We also have another Football themed inflatable game for rent-  First Down Inflatable – this is a great football related inflatable as well and is more ideal for venues where space is of concern.
We also have a great Football themed Equalizer challenge- which is a bungee game where two participants compete against each other in a test of strength!  The equalizer is perfect for any competitive crowds.
All of our inflatable football games are suitable for participants of all ages.
In addition to our football inflatables – we provide all kinds of other fun football related games for special events in the Phoenix Metro area.  We have provided Quarter Back attack game rentals, Wii Football stations, simple football related team building activities, and we have even helped develop custom football themed games of all types.  We will work with you to find a solution for your special event- and we are proud to help you with all your event planning needs.
We also rent tents, tables, chairs, and all kinds of other fun entertainment options!
When it comes to planning a special event- you have a lot of things to take into consideration.  Our goal is to help you with every aspect of the special event- from your inflatable rentals, to the tents, tables, chairs, and even more.  We are the #1 solution for all your special event needs.  Let us know what we can do to help!